The Platin Hero crowdfunding platform features a single-tier partnership program that offers two types of bonuses: for inviting projects and for inviting sponsors. What makes the program unique is the fact that it's based on a smart contract, which means that all rewards are guaranteed by the blockchain!

The program features several roles: project scout, project owner, consultant, and donator. 
Let's take a look at the responsibilities and earning potential for each role:

Project scout — attracts new projects. Receives 5% from the total project funding amount in PLC if the project reaches its funding goal; 
Project owner — launches projects on Platin Hero. Receives 20% from the frozen funding amount for the project launch; 
Consultant — promotes projects and attracts donations. Receives 5% from the frozen funding amount from donators right after the donations are made;
Donator — supports projects. Receives 10% from his donation when the project reaches its funding goal.
Please note that you can be a consultant and a project scout at the same time.

Sounds complicated? Actually, it's extremely simple – in other words, to earn 5% from the total project funding amount, the project owner should register in your first line and his project must reach the funding goal. To earn 5% per donation, make sure a donator is registered in your first line – then 5% from every donation he makes will be transferred to your wallet.
Where can you find your affiliate link? 
Your affiliate link is located in the 'Referral program' section in your profile settings – copy and share it on social networks and messengers.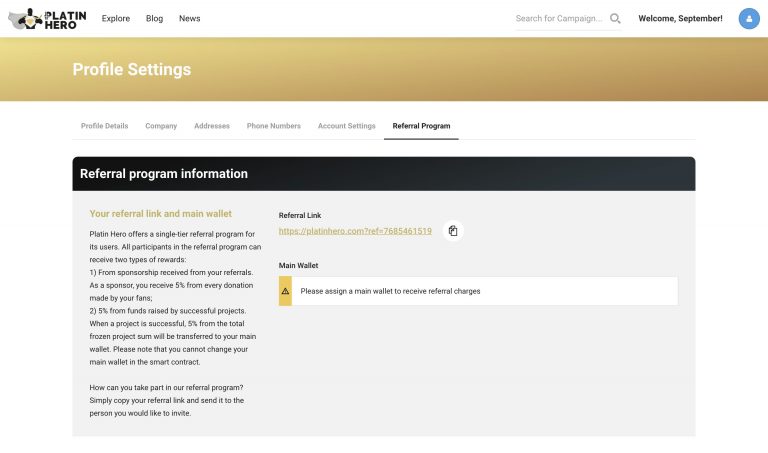 Please note: because all bonuses are credited according to the rules of smart contracts, you must have your own PLC Wallet. It's easy to create your wallet and assign it as your main wallet. Simply follow these instructions: 
Good luck! If you're with us – you're already a Hero!