Your pocket bioenergy therapist: boost your immune system and wellbeing in just 10 minutes
About the project
Our new product 'Immunity Card' is based on joint developments made by a team of researchers at the General Physics Institute of the Russian Academy of Sciences (GPI RAS), the Russian Academy of Medical Technologies, and the Russian National Fund 'Rosintellect'.
The Immunity Card works just like the natural defense layer of our planet. The Earth is surrounded by a magnetic field. If it disappears, the Earth will stop existing in a few minutes. Every person is surrounded by a similar field made of energy.
The mitochondria is a key element that generates energy in our body. It creates a magnetic field and emits electricity. The mitochondria is the powerhouse behind our immune system. Just imagine the important role it plays in our lives! The mitochondria is located in its own DNA segment. Scientists believe that this organelle is more than a billion years old.
When we say that someone's immune system has weakened, this means that the potential of the mitochondria has weakened. 
The largest number of mitochondria is located in our heart. Properly functioning mitochondria lead to a healthy heart. As today's statistics show, most people die from heart disease and cardiac insufficiency. 
What does this mean? It means that you can protect yourself from hundreds of diseases simply by restoring the performance of your mitochondria. And you don't need any pills!
Project idea
When the Earth's magnetic field becomes weaker, it also reduces our immunity. Immunity is the main layer of protection of your body. Magnetotherapy restores the deficit of your magnetic field and stimulates your immune system so you can strengthen protection for your health. The Immunity Card is your personal immune modulator and bioenergy therapist in your pocket. 
The main idea behind the product  is centered around improving public health and creating a powerful immune system in the population. Our studies have shown that regular use of the Immunity Card boosts your immune system, protecting you from harmful environmental damage and improving all the organs in your body.

Product description and core advantages 
Who can use the Immunity Card
The device doesn't have any negative side effects or age restrictions. You can use it from birth until advanced old age. 
Unique product and technology 
This magnetic crystal device 'Immunity Card Soyuzintellect – KZS' improves overall wellbeing and is a unique patented development released by a group of Russian scientists that is based on breakthroughs in quantum physics.


The device is made up of a bioactive magnetic system which contains polygradient, multipolar, rare-earth magnets, combined with crystals from mountain crystal, amber, shungite, and tourmaline. 
Our Immunity Card has passed all clinical trials.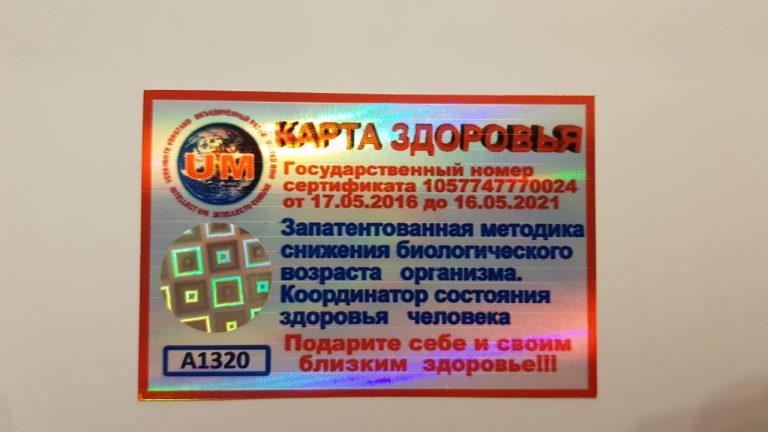 Scientists in countries around the globe are currently working on creating a similar product.  The Immunity Card offers protection by mobilizing the defense mechanisms of your body. The Austrian Swiss company Grander came closest to developing a similar product, but the Immunity Card is miles ahead as a next-generation product, because it employs new energy-generating algorithms.

Immunity Card advantages:
Unique patented quantum physics development. 

No harmful side effects or age restrictions.

Easy to use, condition improved within 5-10 minutes. 

Enhances and harmonizes your magnetic aura. 

Anti-aging and invigorating effects.

Protects from radiation from your cellphone, computer, Wi-Fi, 5G, microwave.

Restores immune system
Reviews
Additional product features
The Immunity Card device is released in 4 colors: red, green, blue, and yellow. Its dimensions are 100 x 70 mm. 
The product comes with a 12-month warranty.
Instructions
The device instantly starts working, simply place it in your pocket with the active side turned towards your body. In minutes, the Immunity Card will start interacting with your biofield and stimulating your immune system. 
To focus the effects on a specific area of your body, attach the device to the desired body part with its active side, which features an optical hologram. Frequent use of the Immunity Card will activate your immune system and combat a wide variety of diseases.

Additional uses
The Immunity Card also acts as a structuring agent for fluids. You can use it at home to improve the structure of your drinking water. Simply place a glass of water on your Immunity Card for 10-15 minutes. Drink this water and protect your immune system. 
Additional useful features
Positive impact on all organs and systems in the human body.

Boosts immune system, speeds up reactions, heightens endurance. 

Boosts the radioprotective qualities of your body. 

Improves moral, physical strength, resistance, resilience, and patience. 

Provides general strengthening and invigorating action. 

Used in sports medicine.
Project team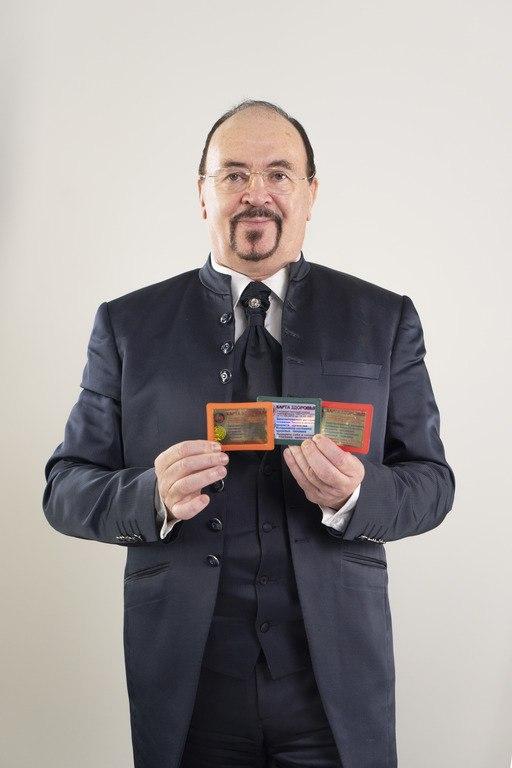 The project founder is the scientist, physicist, and inventor Yaroslav Verzhbitsky. He invents devices based on the principles of morality, ethics, and humanism that make the world better and make people healthier and happier. He's the president of the Rosintellect fund and the Soyuzintellect company. He's worked in the field of high tech for over 30 years. He was the creator and president of the International Online Exchange of Technologies and Investments. Since 1991, he has secured more than 20 proprietary patents on investments, creating devices with industrial and practical applications.
The Immunity Card was also developed by employees at the General Physics Institute of the Russian Academy of Sciences (GPI RAS). The project has partners and supporters at the Russian Academy of Medical Technologies and among members of the National Russian Fund Rosintellect. 
Delivery
You can order the product by making a phone call. Worldwide delivery is available. Moscow-wide delivery is made within two days from the creation of the order. 
Contacts
soyuzintel@mail.ru
+7 903 755 71 43