In this article, we will give you detailed instructions on how to support projects on the Platin Hero platform. After reading this article, you will be able to easily make donations with blockchain and smart contracts, even if you've never worked with cryptocurrencies before. All you need is a smartphone and a desire to support projects.

This article offers a step-by-step guide to creating a PLC Wallet, buying PLC tokens to make a donation, and making a donation. If you are a long-term Platincoin user, feel free to skip the first two steps and scroll down to the final one.
Step 1. Creating a wallet
Before making a donation, you need to create a wallet and top it up with coins. Let's take a closer look at this process. 
Download PLC Wallet
PLC Wallet is compatible with all smartphones: you can download it on the App Store or Play Market. Download PLC Wallet for Android by following this link, for iOS — click here.

Open PLC Wallet and compose a PIN code
We advise you to record your PIN code separately – in the future, you will be able to access the app with your PIN code or fingerprint. Your PIN code must contain six digits. 
Create transport PIN code
After creating your access PIN code, you must create a transport PIN code. It must contain four digits. Save it in a secure location, ideally on several carriers.
Save your private key
Once you create your transport PIN code, the app will generate a wallet, and your private key will be displayed on the screen. You can save it by taking a screenshot or printing it out. This is a crucial step, because you will be unable to access your wallet without a transport PIN code and private key. After saving your private key, move the slider on the bottom of the page and click 'Next'.

Now that you have created your PLC wallet, it's time to buy some coins. 
If you have any remaining questions, check out our detailed video instructions:
Step 2. Buying PLC coins
Our coin is listed on many exchanges: Bithumb Global, Bibox, BitForex, Coinsbit, and others. You can find a complete list on our coin page on CoinMarketCap. Most of our users prefer to use Coinsbit, where you can buy PLC coins for EUR, USDT, USD, TUSD, and PAX.

You'll find detailed information on registration and purchasing PLC on the Coinsbit exchange in this video: 
You can also purchase PLC coins through our Telegram bot. 
Step 3. Donating to a project
Finally, we have reached the most important step – making a donation on Platin Hero. This process is based on blockchain and smart contracts – secure and reliable instruments. When you make a smart contract to contribute a donation, all the coins remain on your account, which guarantees total security. Let's take a closer look at this process:
Launch PLC Wallet
You will find a QR code icon on the main screen of the app, click on it. You will open the QR code scanner.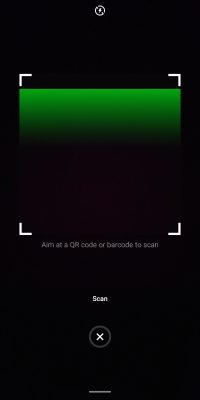 2. On the page of your selected project, select how you'd like to support the project: with a reward or without one. If you'd like to get a reward, select the preferred option from the list – you'll find the required donation amount in the new window.
If you'd like to simply support the project with any amount, click on Donate and indicate the donation amount you'd like to contribute. You will find a QR code in the new window – scan this code with your scanner.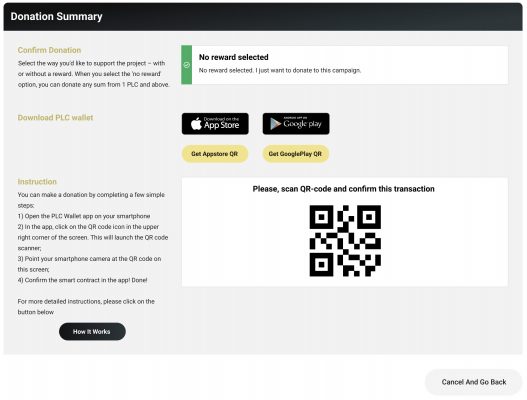 Confirm donation
After scanning the QR code, you will see a confirmation window including all the information about your donation – amount, project ID, smart contract expiration date. Click on Confirm to continue.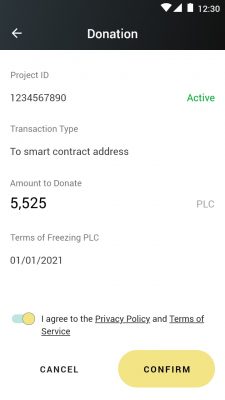 You're done! You've just successfully supported a project. You can track the status of your donations in the PLC Wallet app in the Frozen section: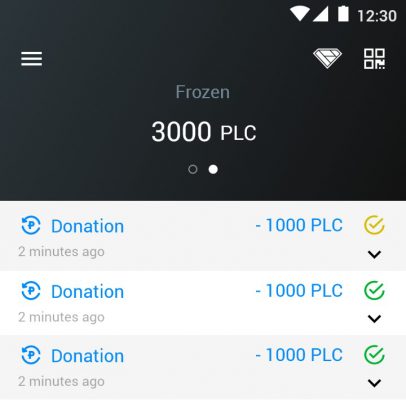 You can select any smart contract and find out everything about it: amount, wallet address used to create it; project name; expected amount of PLC you will receive after the deadline, as well as the freezing period: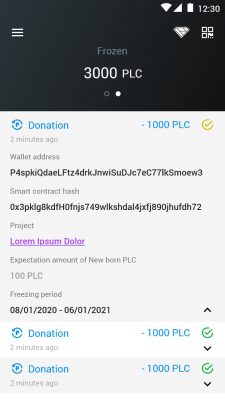 Hopefully, you don't have any more questions after reading this article. If you still have questions, get in touch with our support service (support@platin-genesis.com) — we will make sure to help you!