Do you have an idea, but no funds for its implementation? Congratulations – you've come to the right place! At Platin Hero, you can raise funding for practically any idea. The platform brings together sponsors from all around the globe, who are interested in supporting startups and young companies. In this article, you'll find detailed instructions for launching your project on the Platin Hero crowdfunding platform. You'll find out how to register on the platform, how to correctly fill all the required fields, and describe your project in a way that will inspire more sponsors to contribute their funding. Any project can launch a campaign and start crowdfunding with Platin Hero – from tech products to charity campaigns. The key is that they must comply with the platform regulations and the law. It takes less than an hour to submit an application to start raising funds – a project only needs to upload a catchy description (video, photos, text, important links) and indicate rewards for sponsors (such as branded merch, event tickets, early access to the project's product). Please note that the project description must be in English.
How to start a project on Platin Hero?
It's simple: just click on the Start Project button on the main page, then input all the information for your project launch, step by step.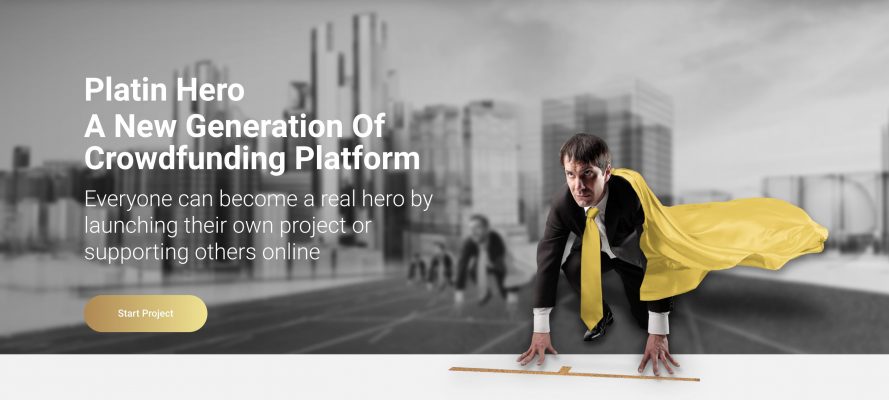 Step 1
Click on the Start Campaign button. This will open a form where you need to input the title of your project.

After creating a title for your project, you'll see a new window where you can edit information about your project. 
During the first step, you'll be prompted to upload a high-quality image that will represent your project in the platform catalog. It must have a resolution of 1336 x 1002, make sure your image attracts attention to your project.
Indicate the URL of your project page to make it easier for your community to find.
Make sure to add a link to a descriptive video of your project uploaded to a hosting site, write a short project description, and indicate the category of your project.
In the Fundraising section, indicate your target funding amount in euros.
In the next step, indicate the wallet and public key of your project where funds will be transferred. If you don't have a wallet, you can create one with the built-in wallet generator.

The generator will create a wallet and private keys for the wallet. This wallet will be used to accept coins from sponsors, so we urge you to take this step seriously. Make sure to securely save your information – this is crucial for safeguarding your funds.
Next, indicate your funding period (note that the minimum project funding period on the platform is 6 months).
Step 2
In the Details section, indicate information with details about your project, including your description, external links, FAQ, and files. Make sure to disclose all information in detail: creator, the essence of the project, idea, value, team members and their achievements, roadmap. The community especially loves projects that include a maximum amount of information – when you describe your project in great detail, you significantly increase your chances of raising funding for the project.
Step 3
Now, it's time to indicate rewards for your sponsors. Remember, valuable rewards can give your project an important advantage over competitors. This might be merch branded with your project logo, tickets to your events, early access to your app – everything depends on the type of your project. 
Step 4
At this stage, the platform will prompt you to fill in your profile. Upload your name or the name of your company, your profile picture, and any other relevant information. 
Step 5
At this stage, you will see a preview of how your project will look after it is posted on our website. Then your project will be sent to be reviewed by the Platin Hero admin. If they have any follow-up questions, representatives from the support service will get in touch with you for clarification.
Please note that we don't allow projects that are illegal or potentially dangerous for sponsors. Forbidden areas and topics include:
Gambling and lotteries.

Offensive material.

Political campaigns.

Pornography

Drugs.

Weapons and accessories.
Your project will be published as soon as the verification process is complete. Please note that project verification might take some time. 
You can launch your project on Platin Hero right now — visit the platform, fill in all the required information and start attracting sponsors!